These days at akademy i really couldn't do that much in the code perhaps i'm lazy and i left the laptop turned off (and the brain too:) from quite some days.
By the way so far it's really fantastic and insanely tiring, yaaawn (i don't ride the bike THAT much usually) 🙂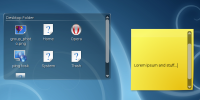 A little thing i managed to get done it's a graphics change in plasma widgets and applets that have a scrollbar in it.
The Oxygen scrollbar was not really suited in plasma applets, both for its style and its colors, arrow button black on black with a flashing blue handle wasn't really it in the plasma style… so now it's svg themed too as other widgets.
it's not really pretty as code but was really the least worst way, it uses a qstyle that must be explicitly set for each scrollbar, but it's totally hidden from the api, since only widgets in kdelibs uses this thing, so just use widgets/
ScrollBar or TextView and all is done (hmm, i suppose i'll have to provide also a set of treeview/listview and stuff so…).