Plasma 5.1 will make way easier to fine-tune their workspace to their needs.While already very powerful, it was not always trivial, so now on one hand it will be possible choose between plasmoids that offer the same feature with a very simple UI.
On the other hand, ever wanted to set themes, look and feel of your desktop, but was discouraged by how many places you had to change themes to make the experience as you wanted? being icon theme, widget style, plasma theme, cursors etc…
Plasma 5.1 will support the concept of Look and Feel packages (or "mega themes" if you like) Basically an one stop place to set the look and feel of the whole desktop.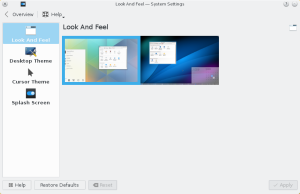 To start, there will be a "Breeze" and an "Oxygen" experience, and in the future, let's hope yours too 😉
In the first release it will be very basic, but in the future it will grow more complete, allowing to more fine-tune individual components, downloading new "look and feels" from the internet etc.
Technically, Look And Feel themes are plasma packages, that contain two things: configuration files for defaults such as icons, colors, cursors etc
and QML files for certain parts of the workspace ui, such as the splashscreen, the lockscreen etc, allowing from very simple things (like a theme that just sets icon theme, widget style etc) to very comprehensive ones, that change completely the logout dialog, lockscreen etc.